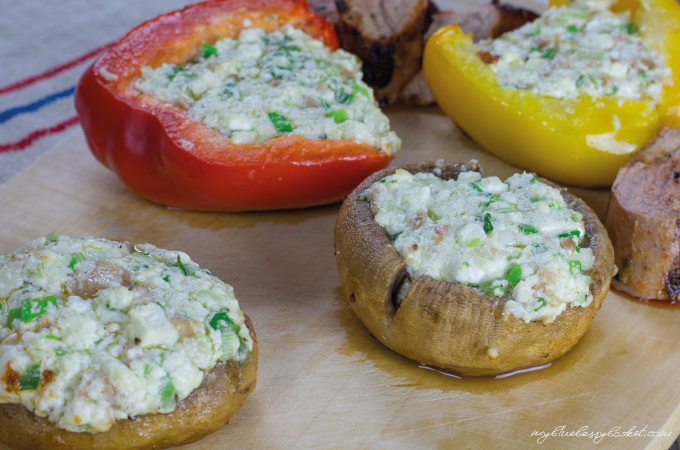 Summer time is BBQ time, at least at My Blueberry Basket's. That's when all different kinds of meats, vegetables and sweet things are put onto the cooking grates, among them the grilled vegetables with feta.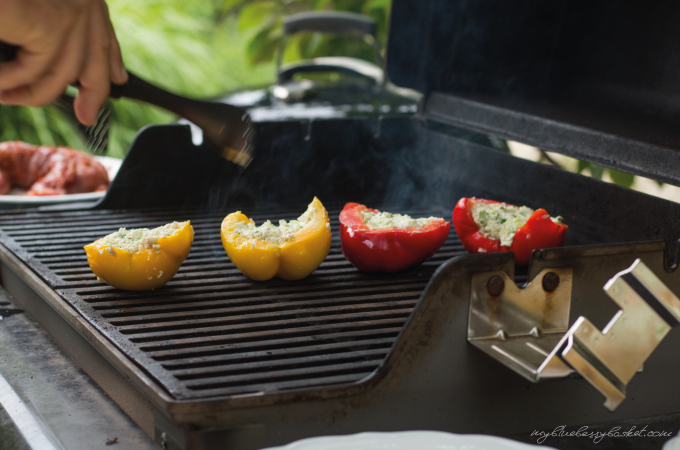 Mister Blueberry Basket is the real pit master, just to be exact. I am the one who does all the preparatory work in the kitchen, but he won't let me have a go at our outdoor grill. He is the chef in the garden. And this is a good thing, too! After all, I am not to blame if the chicken catches fire and the temperature inside the grill suddenly rises to 600°F (315°C), the grilled halloumi sticks to the cooking grates, and the charcoal burns down before the ribs are soft and tender. All this has already happened. 😉 But let me quickly praise his art of grilling now because such small surprises are extremely rare! Mister Blueberry Basket uses both a charcoal and a gas grill and he really masters his grilling skills, to a high extent! The meat is always tender, soft and juicy. Pure heaven! 🙂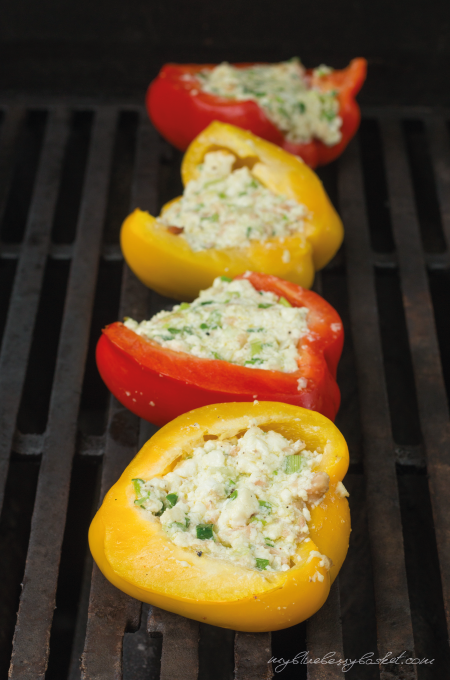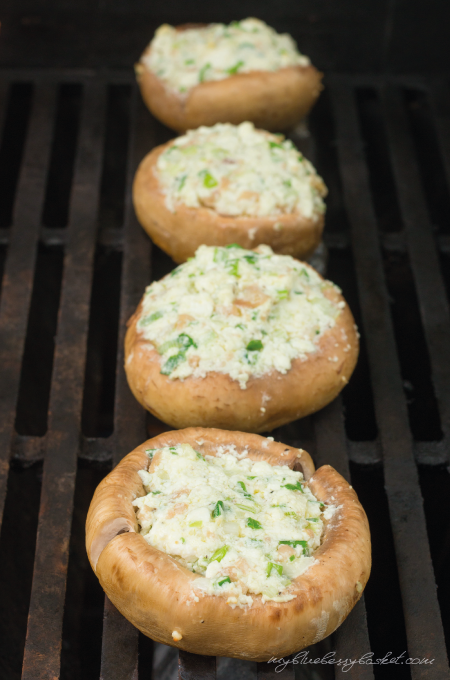 It is also Mr Blueberry Basket, who constantly wants to try new recipes. And so we don't only cook steaks and sausages (sausages very rarely end up on our cooking grates!), but we also experiment with sophisticated creations like stuffed beef filets, butterfly chicken with tomatoes, or the obligatory chicken on a beer can and we also make pizzas and dessert, like grilled bananas with dark chocolate. You see, our BBQ menu is nothing to sneeze at! 😉 And so my stove and oven often remain cold once spring and BBQ time are here. But this doesn't mean that we don't use our grills in the winter. We love a really hot chili on a very cold winter day, for example.
Today I want to give you my recipe for grilled vegetables with feta. In this recipe the vegetables are stuffed with a mixture of feta, oil and spring onions. This is so easy and quick to make that it'll become an integral part of your BBQ menu, I'm sure. The veggies taste particularly lovely when served with potatoes and some tender meat!
I'm absolutely delighted to tell you that the German OTTO Magazin* published a link to this blog post. In their article they are presenting delicious BBQ recipes from various bloggers. Klick the link to see the article (written in German!).
(Advertisement*)
By the way, my ketchup with dried tomatoes also goes wonderfully with the vegetables or with steaks and co.! 😉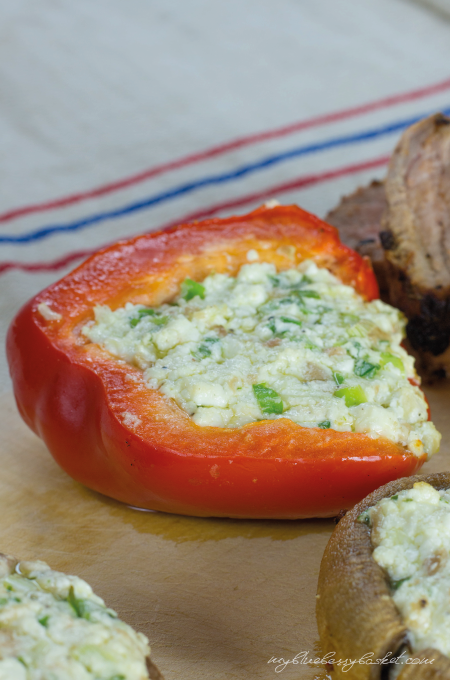 Grilled Vegetables with Feta
Serves 4
2 bell peppers (red, yellow)
4 portabella mushrooms
8 tablespoons olive oil
14 oz. (400 g) feta cheese
2 spring onions
pepper
Carefully cut off the stems of the mushrooms and chop them very finely. Cut the bell peppers into halves and deseed them. Use 4 tablespoons olive oil to rub the peppers and the mushroom caps.
Crumble the feta into a bowl. Add the chopped mushroom stems. Chop the spring onions and add them, too. Season with ground pepper and add the remaining olive oil (4 tablespoons). Stir and combine well.
Stuff the bell peppers and the mushrooms with the feta mixture and press down carefully.
Prepare the grill for direct cooking over medium heat (350° to 450°F) and grill until the cheese is soft and the vegetables are tender (about 5-10 minutes, depending on the heat of your grill), with the lid closed, if possible.
Note: The grilled vegetables are best served with tender meat.
…