Summer time for me is the time when I can sit with my friends for hours on end, mostly out in the garden, having a barbeque or a glass of good wine and when the chatting and talking never stops. Now we find the leisure and can enjoy the mild summer evenings, even though we've already had to get our blankets out several times so far this year. Still, it makes such a difference when we can sit in the garden, under the starlit sky, and darkness is slowly falling. Then, when we turn our eyes to the sky we might even be able to spot the Milky Way, the Big Dipper or other stars. When the bats dash forward and backwards with high speed, all just a little distance above our heads, and when we hear the chirp of the field crickets we know that nature is enjoying those summer evenings as much as we do.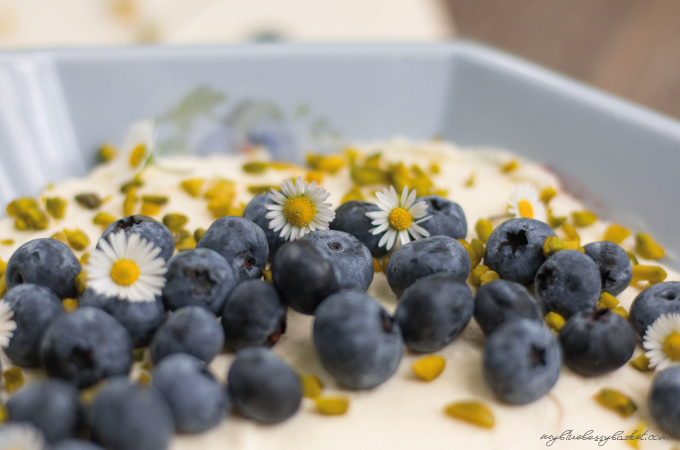 It was exactly one of these evenings that I visited my dear friend Doris. She is a truly excellent hostess. It would already be pure pleasure just to be in this wonderful part of Austria (she lives in Puchberg) and to meet my friends. But Doris is a skilled and artistic amateur chef and so we are always served the most delicious dishes. She constantly surprises us with new creations, one tasting better than the other. This time she enchanted us with a dessert, a blueberry tiramisu. It was so delicate that I had to make it myself on the very next day. Et voilà, here it is.
It tastes wonderfully light and fruity. A real summer dessert, so to say. The flavor of fresh limes and the gentle touch of Limoncello (Italian lemon liqueur) almost remind you of a summer cocktail.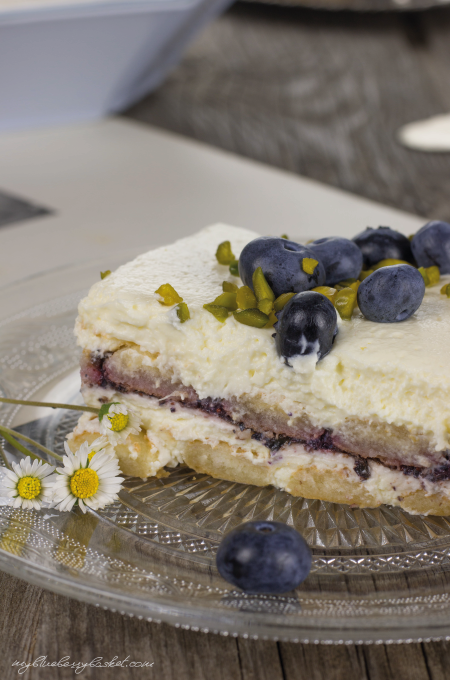 Doris had prepared a big bowl of blueberry tiramisu. Even though it was already quite dark I could see that hardly anything was left over when most of us had had a second helping. And thus I also made a big bowl the next day when we had invited some guests. They were equally delighted and so it was clear that the recipe would be posted on my blog. Thank you so much, Doris, for this wonderful recipe! 🙂
Blueberry Tiramisu with Limes
Serves 8
300 g (2/3 lb) ladyfingers
2 limes
1/3 cup (80 ml) Limoncello (Italian lemon liqueur)
½ cup (120 ml) cold water
500 g (about 2 cups / 1 lb) mascarpone
175 g (¾ cup) cream cheese
250 ml (about 1 cup) whipping cream
120 ml (1/3 cup) yoghurt
100 g (1/2 cup) sugar
375 g (about ¾ lb) blueberries
20 g (about 1 oz) pistachios, chopped
Combine the zest of the limes, 50 ml (about ¼ cup) lime juice, the Limoncello and the water in a bowl.
Puree 250 g blueberries with an immersion blender and add a dash of lime juice.
Mix the mascarpone, cream cheese, yoghurt and sugar (with an egg whisk or handheld mixer). Beat the whipping cream until it forms soft peaks and fold it into the mascarpone mixture.
Dip half of the ladyfingers in the Limoncello-lemon juice and arrange them in a 9×13 inch dish. Spread half of the mascarpone mixture over the ladyfingers (this is most easily done with a cake shovel or spatula), then the pureed blueberries, another layer of soaked ladyfingers and the second half of the mascarpone mixture. Sprinkle with remaining blueberries and the chopped pistachios. Cover and refrigerate for 5-6 hours.
Note: If you can't get any limoncello you can also leave it out. Use a bit more lime juice instead.
Wishing you  lovely summer evenings and many occasions for chatting with your friends!
Yours, Simone 🙂
…