Pasta with sage and pork filet, a delicious weeknight meal as well as a meal for special occasions.
In my herb garden sage is definitely growing incredibly well, one could almost say that it is growing rampant, even though it's already November and the days and nights are getting colder and colder. Therefore, I decided to use it more often in my cooking and let it show its grandness and aroma. Yesterday we had gnocchi with brown sage butter, last week I made pumpkin quiche with sage and today I cooked the pasta with sage and pork filet.
Originally I had planned to make Saltimbocca style pasta using sage and prosciutto as ingredients. Instead of veal I took pork filet and roasted it to a point where it is juicy, tender and most flavorful. When I was ready to serve, though, I decided against mixing it all up and serving it in a deep pasta bowl. I rather arranged the pasta and the meat separately on the plate. Consequently, I also had to re-name my dish. But what the heck, it tastes utterly delicious both ways.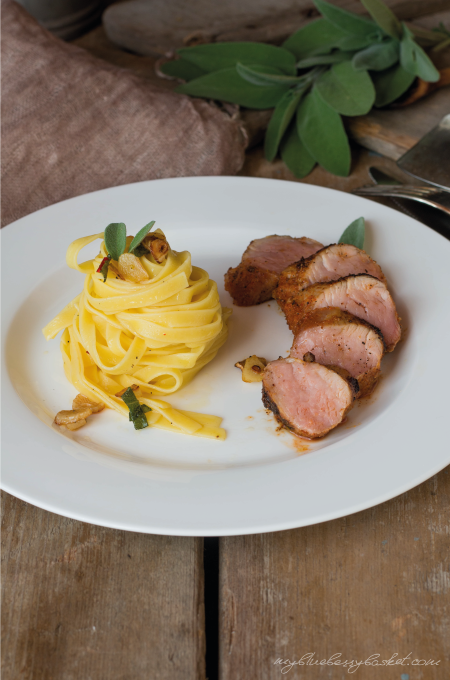 Pasta with Sage and Pork Filet
Serves 4
2 teaspoons salt
1 teaspoon onion powder
1 teaspoon garlic powder
½ teaspoon mustard powder (optional)
½ teaspoon paprika powder
½ teaspoon ground pepper
about 800-900 g (2 lbs) pork filets (about 1-2 filets)
1 tablespoon oil
150 g (1/3 lb) very thin slices of prosciutto di Parma (optional)
2 tablespoons oil
10 cloves of garlic
200 ml (3/4 – 1 cup) white wine
200 ml (3/4 – 1 cup) double cream
10 sage leaves
1-2 chili peppers
salt
250 g (9 oz) tagliatelle, or similar pasta
Preheat the oven to 140°C fan (280°F).
Combine 2 teaspoons of salt, the garlic, onion, mustard and paprika powder and the ground pepper. Trim the pork filets of any fat and any silver skin and rub the spices into the meat. Heat one tablespoon of oil in a large pan and quickly brown the filets on all sides. Remove from the pan and place into an ovenproof dish. Roast in the oven for about 20-25 minutes, depending on the thickness of the meat.
Cook the tagliatelle according to the instructions on the package.
Add another 2 tablespoons of oil into the pan. Tear the prosciutto di Parma into pieces and fry until crisp. Remove from the pan and set aside. Peel and slice the garlic. Put into the hot oil and fry until crisp. Also remove from the pan and set aside. Carefully add the white wine and bring to the boil. Add the cream and cook until reduced by about the half. Season with salt. Drain the tagliatelle and combine with the white wine and cream sauce and the garlic.
Cut the pork filets in thick slices and serve with the pasta and the crisp prosciutto.
In my last blog post I promised to pair each new recipe with a playlist of music to be listened to while cooking or eating. My previous playlist only consisted of classical music and so I headed for the modern department this time. I chose mostly alternative songs that I love to listen to at the moment, catchy tunes that will make you sing along immediately. 😉
The Lumineers: Ophelia
Ages and Ages: Divisionary
Kings of Leon: Over
Mama Cass: Dream A Little Dream Of Me
Hozier: Angel of Small Death & The Codeine Scene
Don Brownrigg: How Are You Supposed To Know
John Mayer: I Will Be Found
Passenger: Home
Passenger: Beautiful Birds (feat. Birdy)
Amazon-Links:
…