Guest-Blogging at
The Cooks In The Kitchen
I have had the great honor of being invited to write a guest blog post and a recipe for Naomi Gingerich's wonderful website "The Cooks In The Kitchen". Her subtitle is There's a story behind every recipe and when you delve into her blog you'll see that what she says is entirely true. Naomi has a lot of stories to tell and she also invites guest bloggers to contribute their own and to present their recipes. And so I was asked to write a blog post with a recipe for her little project called #MondayMarketMeals.
In my article I look back upon my childhood and talk about my family's old tradition of growing vegetables.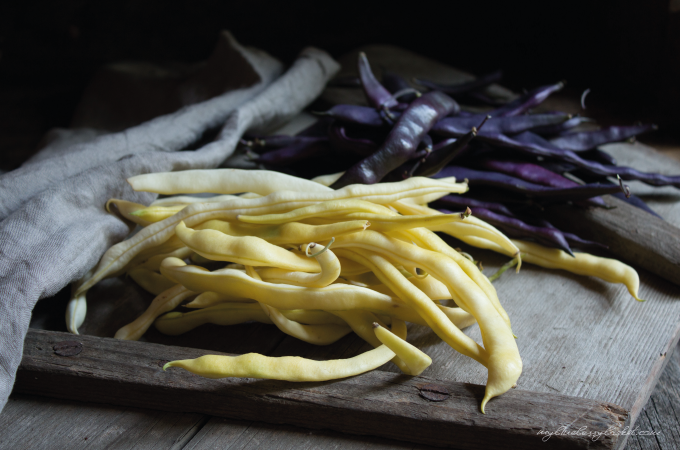 Drop by on Naomi's blog, get enchanted by her many stories and read my own article on this occasion:
As a small teaser, here is my recipe:
Braised Catfish on Green Beans
Author:
Prep time:
Cook time:
Total time:
Braised Catfish on Green Beans, a healthy and hearty meal. The garlic sauce adds a special flavor to this delicious meal.
Ingredients
[b]For the garlic sauce:[/b]
12 cloves of garlic
7 tablespoons olive oil
2 tablespoons chopped marjoram
1 lemon (juice)
1 tablespoon balsamic vinegar (thick vinegar)
salt and pepper
[br]
[b]For the green beans:[/b]
1 lb (about 500 g) green beans
3 spring onions
2 tablespoons oil
2 peaches
1 lemon (zest)
[br]
[b]For the catfisch:[/b]
1 ¾ lb (about 800 g) catfish filets
1 tablespoon butter
1 cup (about 240 ml) fish stock (alternatively: white wine or water)
1 lemon (juice)
salt
Instructions
For the garlic sauce, peel and chop the garlic. Fry in 2 tablespoons olive oil until golden brown. Add 1 tablespoon marjoram and fry for about ½ minute. Remove into a bowl and mix with the remaining olive oil, marjoram, lemon juice and balsamic vinegar. Season with salt and pepper.
Wash the green beans and trim the ends. Cook them in salted water until tender but crisp. Drain and rinse with some cold water immediately so they will keep the green color.
Cut the catfish filets in 4 equal portions, season with salt and sprinkle with lemon juice. Melt the butter in a frying pan and very quickly sear the fish filets on both sides. Add the fish stock and braise until well done.
In the meantime, finish the green beans. Chop the spring onions and fry them in 2 tablespoons olive oil. Peel the peaches (or leave the skin on, just as you like) and cut into thick slices. Add the beans and the lemon juice to the spring onions and allow to heat up again. Add the peaches and gently cook until the peaches are really warm and soft.
Put the beans on the plate first, then a fish filet on top and sprinkle a tablespoon of garlic sauce over everything.
Notes
1. Try to use old, thick balsamic vinegar for the garlic sauce as it tastes so much better. [br]2. Serve with creamy polenta or mashed potatoes. For the creamy polenta cook 160 g (1/3 lb) polenta in 250 ml (1 cup) milk, 250 ml (1 cup) cream and 100 g (4 oz) melted butter on low until well done. Season with salt, pepper and grated nutmeg. Add more milk if necessary.
Yours,
Simone