Fish Dinner at the Looshaus
On Shrove Tuesday I had the great chance to look behind the scenes of one of the best restaurants of this part of Austria, the Looshaus (hotel and restaurant), and to join the team of chefs in their work. The co-owner of the hotel and head chef of the restaurant, Hanni Sehn, granted me the permission to help prepare a four-course fish-menu and to experience the excitement and hustle and bustle during the peak time of the evening. It was an amazing adventure, I can assure you! 🙂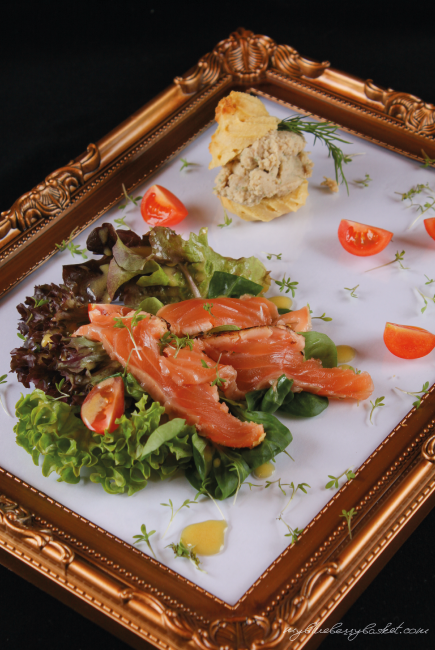 Hanni Sehn's cuisine is among the best here and she combines local, seasonal produce and creativity to create traditional dishes with a modern touch.
On Shrove Tuesday the restaurant was fully booked and she served a four-course fish-dinner with an amuse-gueule:
Fried Potato Dumplings with a Fish-Filling and Coleslaw (amuse-gueule)
Three Variations of Fish (starter)
Tomato Soup with Cabbage-Fish-Roulade (soup)
Catfish Filet Strudel with Mediterranean Vegetables, Beetroot Risotto and Dillsauce
Tiramisu with Pumpkin Seeds
When I arrived at the Looshaus at around 2 p.m. I found Hanni and her team drinking a cup of coffee and discussing the afternoon and evening: who was to do what, when and how. I was instantly included in the conversation and planning. This is the right time now to say that this team is an extraordinary one. We got along with each other immediately and I came to enjoy this relaxed atmosphere and the jesting conversations. Here are the members of this team:
After this short meeting everyone engaged in her work. There were a lot of preparations to be done even though some parts had already been cooked ahead (e.g. the tiramisu or the tomato soup). I was assigned proper cooking tasks like cutting the vegetables, making the catfish strudels and the cabbage roulades, arranging the food on the plates, … The two chefs, Hanni and Silvia, explained what they were doing and why, which ingredients they used and preferred and what was important to consider. That was how I learned that it is essential to roast the fish parures until very brown and to add some seafood when cooking fish stock as this will intensify the flavor of the stock.
… Or, adding some chicken breast to the fish farce (stuffing for the cabbage roulades) will make the stuffing smoother. And the chicken has very little taste of its own anyway.
… Or, the salmon filets are marinated best when vacuum packed or tightly sealed in a freezer bag. If the filet is rather thick it is a good idea to weight down the filet with a heavy pot.
… Or, adding some horseradish to the smoked trout mousse will provide an extra and interesting flavor.
After the preparations had been finished we got ready for arranging the food on the plates. What fascinated me so much was the swiftness and precision with which everything was done here. Each of us had her own, special movement and task (I was included in this job!) and so all the plates were ready to serve in next to no time. I can tell you, this was the most exciting part of the whole evening! 🙂
I chose the recipes of two starters to present to you today, the marinated salmon filet on a bed of green lettuce with a mustard-honey-dressing and the smoked trout mousse which I am serving in little profiteroles. I didn't take any notes while working in Hanni's kitchen but I did ask a lot of questions and observed closely. My recipes are therefore not a 100% reproduction of Hanni's and Silvia's cooking but I tried very hard to come very close.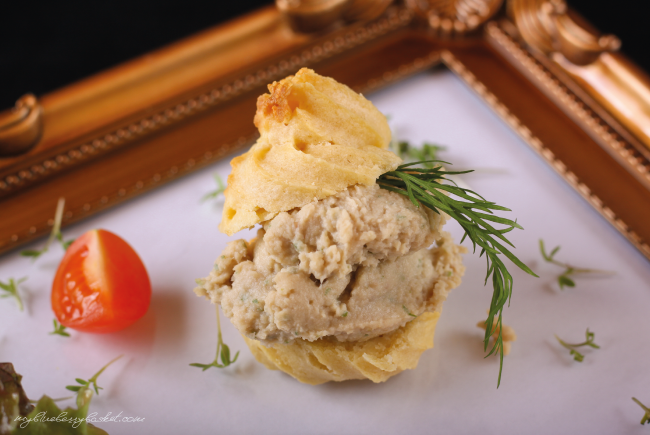 Finally, I want to unroll some interesting details of the history of the Looshaus. The house was built in 1929/30 by the famous Austrian architect Adolf Loos, who was a pioneer of modern architecture. Today the building is listed and despite its modern function and use most of its interior and exterior design is in the original state.
The house is situated on a mountain in Austria, with a wonderful view on the valley and adjoining peaks, surrounded by forests and meadows. A glorious place!
Now let me say thank you to Hanni Sehn and her team for everything. I was allowed to spend some wonderful hours in your kitchen and I was able to learn so much. And I want to express my special gratitude for your kind and friendly acceptance, for making me feel welcome and for respecting me, the inexperienced food blogger that I am. It was a real pleasure! Thank you!
And I want to tell you, dear readers, that Hanni promised me that I could come back for another kitchen adventure when she would be cooking à la carte. So there's more for me to look forward to! 🙂
Marinated Salmon
Author:
Prep time:
Cook time:
Total time:
The marinated salmon is a quickly prepared starter.
Ingredients
1 lb (450 g) salmon filet (skin on)
2 teaspoons coarse sea salt
some ground pepper
3 teaspoons mustard seeds
3 teaspoons brown sugar
2 tablespoons finely chopped dill
1 dash of lemon juice
1 tablespoon oil
Instructions
Combine all the spices and seasonings in a small bowl. Put the salmon filet in a freezer bag and carefully rub the spices onto the filet. Close the freezer bag very tightly, pressing all the air out of the bag if possible. Leave to marinate in the fridge for one day.
Take the filet out of the bag and use a paper towel to remove the mustard seeds. Heat the oil in a frying pan and sear the filet (skin side up) very quickly (it should still be raw inside).
Transfer onto a chopping board and leave to rest for a few minutes. Use a very sharp knife with a thin blade to cut thin slices. Serve on green salad with the mustard-honey-dressing.
Green Salad with Mustard-Honey-Dressing
Author:
Prep time:
Total time:
A quick salad with a delicious dressing to accompany the marinated salmon.
Ingredients
2 large handfuls of green lettuce (e.g. arugula, lamb's lettuce, etc.)
[br]
[b]For the dressing:[/b]
1 tablespoon honey
4 teaspoons mustard
2 teaspoons Dijon mustard
1 lemon (juice)
3 tablespoons olive oil
¼ teaspoon sea salt
2 teaspoons finely chopped dill (optional)
Instructions
Wash the lettuce carefully.
Combine all the ingredients for the dressing and mix well. Drizzle the dressing onto the lettuce.
Smoked Trout Mousse
Author:
Prep time:
Total time:
A quickly prepared starter.
Ingredients
1/3 lb (150 g) smoked trout filets
about ½ cup (100-150 ml) cream
some ground pepper
½ teaspoon finely grated horseradish from a jar
1 dash of balsamic vinegar
1 tablespoon arugula or ½ tablespoon parsley (finely chopped)
Instructions
Put all the ingredients apart from the cream into a food processor. Add only as much cream until you get a creamy mousse. Add more balsamic vinegar and horseradish if necessary.
Profiteroles
Recipe Type
:
Starter, Baking
Author:
Prep time:
Cook time:
Total time:
A delightful companion for the smoked trout mousse.
Ingredients
½ cup (125 ml) milk
2 ½ tablespoon (40 g) butter
salt
1 teaspoon sugar
¾ cup (90 g) flour, all-purpose
2 eggs
Instructions
Preheat the oven to 425°F (220°C, 200°C fan).
Bring the milk, butter, sugar and salt to the boil. Reduce the heat and add the flour in one go. Use a wooden spoon to stir thoroughly until the dough comes off the sides and the bottom of the pot. Remove from the stove. Add the eggs, one at a time, and use a handheld mixer or an immersion blender to combine the eggs with the dough. The dough should nut be too soft.
Put some parchment paper on a baking tray. Transfer the dough to a pastry bag equipped with a large straight tip and pipe 1-inch balls onto the baking tray. Bake for about 5-10 minutes, leaving the door of the oven slightly ajar. Close the door and continue baking until the profiteroles have turned a golden brown.
Allow to cool completely. Cut them into halves (horizontally) and fill them with the smoked trout mousse.